It's Friday!! Hopefully here in St. Louis the weekend will bring some actual summertime weather. We've had cold and rain all week so I'm very hopeful we'll actually get to see the sun some this weekend. The cloudy weather has definitely made me a tad bit grumpy. I'm sure Eric is glad I was out of town this week so he didn't have to live through it. I also took a little unplanned blogging break. Work and life was just a bit too hectic to put some words together for a blog. But I'm glad to be back and here's my five for this week:
1. Me Before You
Guys -- I loved this book! After seeing it mentioned on several blogs, I thought I'd give it a try. I started reading it on Saturday afternoon and had a hard time doing anything else last weekend besides sitting and reading! I finished it on Monday and was sad it ended. If you're looking for a book, I recommend this one. As an added bonus, it's only $2.99 in Kindle version right now. Here's what Amazon says about it:
They had nothing in common until love gave them everything to lose . . .
Louisa Clark is an ordinary girl living an exceedingly ordinary life—steady boyfriend, close family—who has barely been farther afield than their tiny village. She takes a badly needed job working for ex–Master of the Universe Will Traynor, who is wheelchair bound after an accident. Will has always lived a huge life—big deals, extreme sports, worldwide travel—and now he's pretty sure he cannot live the way he is.
Will is acerbic, moody, bossy—but Lou refuses to treat him with kid gloves, and soon his happiness means more to her than she expected. When she learns that Will has shocking plans of his own, she sets out to show him that life is still worth living.
A Love Story
for this generation,
Me Before You
brings to life two people who couldn't have less in common—a heartbreakingly romantic novel that asks,
What do you do when making the person you love happy also means breaking your own heart?
To purchase, click HERE
A couple weeks ago we headed to Memphis for a couples shower and stayed at the
Peabody
. Great experience! We got a fabulous deal using Priceline's Name Your Own Price, so staying there didn't drain our bank account. If you're ever headed to Memphis, I'd definitely recommend checking out this hotel and Priceline as a way to save some bucks. The hotel is famous for the ducks -- as a matter of fact, duck things are everywhere! Watching the live ones parade into the fountain in the morning and march out in the evening after their all day swim is rather entertaining.
3. National Pina Colada Day
Break out the tiny umbrellas guys because it's National Pina Colada Day!! This is not my typical drink to order (unless I'm poolside in Cancun), but today might be the perfect day to order one of these up. Here's a little recipe I found on
allrecipes.com
:
Ingredients:
~ 1 fluid ounce light rum
~ 1 fluid ounce amber rum
~ 3 fluid ounces pineapple juice
~ 2 fluid ounces sweet and sour mix
~ 2 fluid ounces cram of coconut (such as Coco Lopez)
~ 1 fluid ounce half-and-half cream
~ 1/4 fluid ounce dark rum (optional)
Directions:
1. Pour the light rum, amber rum, pineapple juice, sweet and sour mix, cream of coconut, and half-and-half cream into the pitcher of a blender with ice; blend until the cocktail has a slushy texture. Pour the slushy mixture into a glass.
2. Slowly and gently drizzle the dark rum over the drink so it just floats on top; serve.
4. Salted Caramel Peanuts
These sound so yummy to me -- how about to you?!? Putting them on my shopping list right now to look for when I head to the store. These salty/sweet babies would be great to munch on. I'm also picturing them chopped up and served on ice cream with some caramel sauce on top. Yep -- that's how I'm going to try them.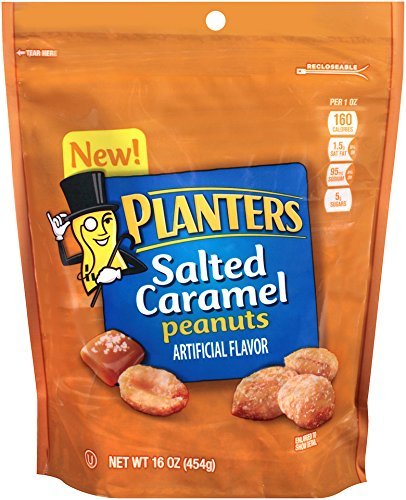 5. How true is this....
We're headed to the Muny (our outdoor theater in St. Louis) tonight to see Holiday Inn. For the third week in a row there's a chance of rain. Cross your fingers the rain doesn't happen after 7:00 pm!! There's lots of chores on my agenda for the rest of the weekend. I'll be back on Monday with a recap.
Hope you enjoy the next couple of days and have tons of summer time fun!
Linking up with: