Happy Monday guys! Hope you had a great weekend and are ready to cruise into the week. It's hard to believe we are on day 21 in September. Where is this month going?
This past weekend was one of my favorite kinds. Friday night I stopped by the hospital before going home to get in a few more hugs with my new nephew, Liam. He is the sweetest little thing! Just look how adorable he is.
Our dryer broke earlier in the week. Eric got the part for it on Friday morning and I was so grateful he was able to fix it Friday night. Don't you hate when appliances stop working?!? Thank goodness we were able to get the part quickly and make it all better before we had to hang wet clothes all over our house again to let them dry.
Saturday morning I did what I love to do on a Saturday morning. I laid in bed and caught up on a few blogs while sipping a cup of Teavana's Pumpkin Spice Brulee hot tea. Oh my goodness - this just started my weekend off perfectly!
Seeing the bright sun shining in, I decided to move to the outside and spend a little time reading. Well, a little turned in to quite a bit because I could not put my book down. I was reading
Heaven Is Here
by Stephanie Nielson. This truly inspirational story is told by Stephanie herself on her life after surviving a plane crash. If you haven't read it, I would highly recommend adding it to your list.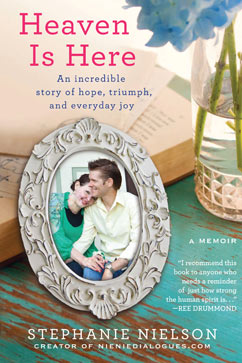 To purchase, click HERE
When I finished the last page, it was time I kicked it in gear. We were headed to my parents on Sunday to celebrate my dad's birthday. My brother and his family (and the new baby) live in the same town so I wanted to make a couple meals to take to them. One of the things was the Apricot Pork Chops I blogged about
HERE
. This is a wonderful recipe to whip up if you would like to gift someone with food that can easily to prepared later.
Sunday morning I rose early in anticipation of going home. We were celebrating Dad's birthday and I wanted to click a few more photos of baby Liam. I had props and banners and high hopes of getting some of those touching baby pictures that go viral on the internet. I mean, I had the perfect model -- Liam is a little doll. Well, my photographer skills are NOT "viral" photo quality! That became VERY clear from near the beginning of our little photo shoot. Probably soon after Liam managed to pee all over me did I realize I am not a good photographer. However, that will definitely not keeping me from trying! Here's a few of the good ones.
I would also like to wish my Dad a special 77th birthday today! He is the most honest, hard working person I know. I was once in a pageant and the judges ask me who I admired most. Without any hesitation I said my dad. If I was asked the same question today, my answer would be the same. Happy birthday, Dad!
Me and Dad when I was 3
Dad giving Ian his first car when he turned 16
Dad and Mom with Ian at his college graduation
Me and my brother,Ernie with Dad last year on his birthday
Just a reminder - if you haven't entered Krysten's birthday giveaway, you only have a few hours left. Here's your chance:
Hope you have a fantastic week! Enjoy the last bit of summer because fall officially begins on this week.
Check out what others were up to this weekend.