What a week! Eric and I flew to Florida on Tuesday for some St. Louis Cardinal Spring Training action. It is bitter sweet that the week is coming to an end. We have had so much fun here in the land of sun and sand I really do hate to see it come to an end.
Before we fly back home, here's this week's Five on Friday.
1. Planters Dessert-Inspired Mixes
Our plane trip south allowed me 2 hours of wonderful quiet time to read a magazine. I saw an ad for these Planters Dessert-Inspired Mixes. When we landed, we popped in a grocery store to pick up some snacks for the hotel room and I hunted these down. We got a packet of the Banana Sundae -- party darn tasty! Other flavors are Oatmeal Raisin Cookie, Turtle Sundae and Chocolate Peanut Butter Brownie. Definitely worth trying!
2. Veggie Spiralizer
I'm loving the look of this Pampered Chef tool -- the Veggie Spiralizer. With the three blades that comes with it, you can turn your veggies into ribbons, spaghetti or fettuccine. Healthier cooking is right around the corner with this baby! Need one? Click HERE to purchase. You'll have your kids eating squash spaghetti in no time!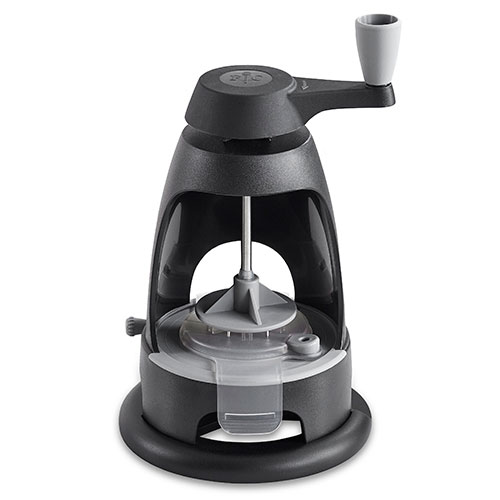 3. Better Homes and Garden
I definitely have an obsession with magazines. You know,
real
magazines that you hold in your hands. I noticed on Amazon this week that one of my favorites, Better Homes and Gardens, is on sale for $5 for an entire year. That's right -- an entire year! If you want to jump on the "I love magazines" bandwagon, click
HERE
to buy your one year subscription to this great magazine.
4. Daylight Saving Time
Get ready for it to still be light when you leave work on Monday because this weekend it's time to set your clock back an hour in honor of daylight saving time. Even though we are going to loose an hour this weekend, I still love the fact that the days will have a bit more light to them. It's such a wonderful hint that summer is on it's way. So Saturday night before you go to bed, give those clocks a turn forward.
5. Yep, this is definitely me....
Hope you have a wonderful weekend! I need to get ready for my Bachelor viewing party on Monday night. Who do you think will be the future Mrs. Ben Higgins? Plus I'm hoping to get the suitcases unpacked and the laundry done. Stop back by on Monday to hear the details!
Linking up with: