On Friday when I envisioned my weekend, I saw some major binge watching and laying on the couch coming on. The week had been emotionally draining with the passing of my friend Jane and I was coordinating a work program so I was gone from home all week. I'm proud to report that I spent very little time horizontally on couch! I actually ended up getting some things accomplished.
Friday night when I got home I was greeted by a dozen beautiful roses from Eric. The man knows how to make me feel loved!
When I went to the mailbox, my friend Tracy had left me a little surprise. I'm telling you what, I have the best friends! It was such a sweet gesture and she knew just what I needed this weekend. A little spa action was in my immediate future. Thanks Tracy!
Saturday Eric and I decided to head to a vintage market in the Soulard area. We swung in Twisted Ranch beforehand for lunch first and the food was as good as it had been the first time I was there. They have a bazillion variations of ranch dressing for dipping. I'm in love with their grilled cheese! We even sprang for the chicken nachos for an appetizer.
After lunch we walked to the vintage market and, unfortunately, we were both under impressed. Alive Magazine had mentioned it as one of the seven things to do in St. Louis this weekend so we had high expectations. Oh well, we had a great lunch and a nice walk.
We hit some shops then went home to make dinner. Kayla and Ian came over and we enjoyed catching up with them. I made the chili recipe I blogged about HERE. It tasted great on a cold winter night. We used one of my favorite Pampered Chef gadget ~ the Mix 'N Chop. If you don't have one, you should give some serious thought to getting one. It crumbles the hamburger so easily for things like chili. The best part ~ it doesn't scratch your pan! You need one!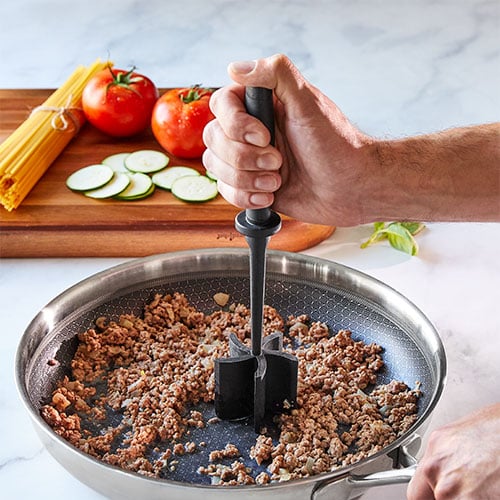 Click HERE to order yours!
For dessert, I whipped up these little chocolates wrapped in puff pastry. Recipe coming on Tuesday. They are delicious!
Sunday was a day for errands. After church I got the car washed, did a Target run and went through the mail from last week. I also made this little sign I had found on Pinterest for my friend Janet's desk this week. After 20 years with our company, of which 18 she sat by me, Friday will be her last day at work. I'm hoping to make her last week there a special one.
Kayla and Ian invited us over to watch the Blues games Sunday night. Ian made Loaded Baked Potato Soup. Too bad the Blues didn't pull out a win! It was still a fun time and we always enjoy spending time with them.
When we got home, we weren't overly tired so we wrapped up the weekend watching the Netflix documentary on the Eagles. If you're a fan, add this to your queue. It really is a fun look at this legendary group.
What were you up to this weekend? If you were on the east coast, did you do a lot of snow shoveling? So here we are headed into the last week of January. Where did this month go?!? Let's make this week a great one and I hope to see you back tomorrow for the chocolate recipe.
Check out what others were up to this weekend.