We've made it to Friday! Ready for a weekend? I know I sure am! This has been a fun week. It is Downtown Restaurant Week in St. Louis and we've been fortunate enough to eat at two establishments. There were so many great places to choose from I think I could have easily dined out every night.
This weekend we're headed back to my home town for the Old Settlers Picnic. It's always so much fun. Just peek at what's on the agenda:
Notice this is the 134th year for this event. One hundred and thirty four YEARS. Not many events survive that long. Can't wait to get there and see so many friends. Before I head out, here's my five for this week.
1. Kate Spade Purse
I am in love with this cute little Kate Spade purse. It comes in two colors:
Clock Tower (cream) and
Guava (shown). Even the names of the available colors is adorable! It's on sale right now at Nordstrom's and I can't stop thinking about it. Think I should pull the trigger and buy it?
Have you seen these adorable
metallic wine glass markers
?!? These babies can write on any of your glass, plastic or glazed ceramic drinking vessels. Think how cute it would be to jot a note on a wine bottle you are giving as a gift! Best part, it washes off with a sponge or in the dishwasher. I'm thinking this would make an excellent hostess gift too.
Click HERE to purchase
3. Fantastic Four Movie
Something tells me with my nephew visiting us for a few days, we will be seeing this movie. Fine by me! It releases today and I'm sure it will be a big hit at the box office. I should probably buy our tickets in advance so I don't have a very disappointed guy on my hands if the time we want is sold out. This Marvel adventure is about four young outsiders who "acquire amazing abilities after a trip to an alternate universe changes their physical forms in unforeseen ways." Do you have plans to see it?
4. Back to School Photo Props
It's back to school time and those first day pictures are coming. Be ready with some cool back to school photo props. Trust me, it's a whole lot easier to figure out what grade your child was in when looking back years from now if they are holding a sign that tells you. Plan ahead. There are cool ones all over Pinterest. One of my favorites is this one from
inkhappi.com
.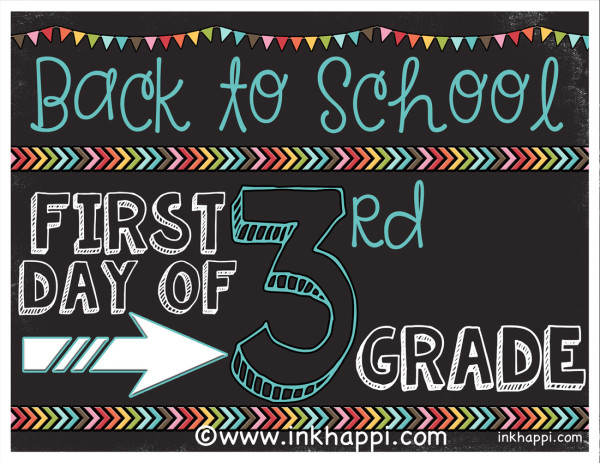 5. Here's a fun thing to do....
Hope everyone has a great weekend! I'll be back on Monday to recap mine. Oh hey, just a reminder -- if you are in Missouri over the weekend, it's the Back To School Sales Tax Holiday August 7-9, 2015. Things like computers, clothes, shoes, school supplies will have no Missouri sales tax added on to the purchase. Happy shopping!