Hello Friday! I'm so ready for this weekend ~ friends are on their way to my house and an epic weekend is just a few shorts hours away. We have an action packed couple of days planned and I can't wait to get this weekend started! With some luck, I believe the weather is even going to help us out by delivering a couple beautiful spring days. Before I head out, here's my five ~
1. Purple Rain
In honor of Prince, I think I'll be serving a batch of Purple Rain drinks this weekend. So sad to lose this musical icon at such a young age. He was on my concert bucket list and I'm sorry I won't have the opportunity to see him perform in person. Raspberry Beret is one of my favorite songs. What was your favorite Prince song?
2. Catastrophe
This adult Amazon original series is very clever. I'm hooked. I binge watched the entire first season in one sitting and am on to season 2. Have you seen it? Here's the description from Amazon: "Rob Delaney and Sharon Horgan write and star in this R-rated comedy about a one-week stand between a Boston ad exec and a London schoolteacher that leads to an accidental pregnancy. When Rob moves to the UK to help figure things out, cultures clash and hormones flare as these two realize they don't know the first thing about each other." You need Amazon Prime to have access. Not a Prime member? No worries ~ Try Amazon Prime 30-Day Free Trial
by clicking on these blue words.
3. National Picnic Day
Guess what tomorrow is? National Picnic Day! Who doesn't love a picnic?!? The weather is supposed to be great in our area all weekend. Perfect for packing up a cute little picnic and heading outside. Even when it's raining, it's still fun to spread a blanket in the living room and pop a squat right there on the floor. What a fun thing to do with the kids! Check out these adorable reuseable outdoor utensil set from Pampered Chef. They are on sale right now for $2 for a set of 6. Great deal! Click HERE to purchase.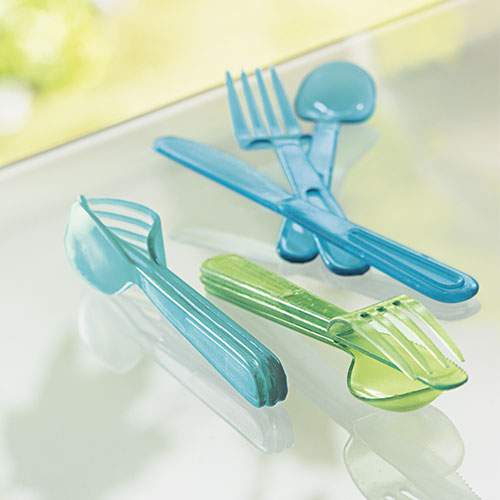 4. Quaker Breakfast Flats
I'm going to be on the lookout for these babies. Getting out of the house in the morning is sometimes a challenge and Quaker's breakfast flats looks like something I would love to grab for a quick breakfast. They come in three tasty flavors: Banana Honey Nut, Cranberry Almond and Golden Raisin Cinnamon. Quaker Breakfast Flats are under 200 calories -- perfect since I'm trying to cut down on my calorie intake. Added bonuses ~ they are a good source of fiber AND have no artificial flavors or added colors.
5. I remember these days....
Have a fantastic weekend! Get out there and do something fun. No time like the present to start enjoying life! See you on Monday!