August is here already -- are you kidding me?!?!? This week caught me doing some cleaning and preparing for visitors this weekend which you'll see below. Hope you enjoy my Five on Friday!
1. Fitted Sheet Folding
I saw this video posted on one of my friend's Facebook page and have been practicing ever since. The technique is great and after a few tries I can say I've actually mastered this task. After folding the fitted sheet, I like to tuck the fitted and flat sheets, along with the extra pillowcase, into the second pillowcase. When company is coming and you need to change the sheets, you can just grab the whole neat little packet and get to work.
Speaking of company coming, my good friends Sharyn and Linda are visiting and we're going to have a sleep over Saturday night in celebration of Sharyn's 50th birthday. I love slumber parties with my friends and have been looking forward to this one for a while. The three of us have been friends since grade school -- yes, I'm aware that's a VERY long time. I'm making this cute little note to put in their guest rooms to help them connect to our wireless. FYI - The card pictured is fake data so please don't try to sit in my driveway and use our internet with this username and password :).
One blog I love,
Carolina Charm
, blogged about this lavender spray so, of course, I had to make some. It's super simple to make and will be adorable in the guest bags I'm putting together for my two friends visiting this weekend. (Please act surprised Sharyn and Linda.)
2 cups distilled water
1 oz. (2 tablespoons) vodka or rubbing alcohol
I have completely fallen in love with
The Wheatfield by Katie Daisy
etsy shop. I've been thinking about redoing one of our guest rooms around some of the prints, but haven't quite figured it all out yet. As soon as I do, you'll see it here. Her whimsical designs just put a smile on my face.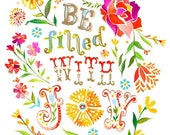 5. Quote
Sometimes you just need a little reminder.
Have a fabulous weekend! I'm so excited about spending time with my friends I'm giddy. Check back next week to see all the fun we had.
Linking up with
Jennie,
Amanda,
Lauren,
and Rebecca
for some Friday fun.