Can you believe it's Friday!! I'm off work today for a very exciting reason. Eric, my parents, Kayla and I will be in Jefferson City to witness Ian taking the Oath of Admission and officially become an attorney. Can you feel the pride oozing from my fingers as I type that sentence?!? It will be a day we will always remember and I'm so very grateful to be able to be there to see it.
Before all that excitement, here's my five for today ~
Check out these super cute emoji cookie cutters from
Pampered Chef
! How much fun would it be to make emoji cookies with the kids?!? Or think of taking emoji cookies to your next party! What makes them even better is the fact that Pampered Chef will contribute $1 for each set sold to Feeding America. Want some? Click
HERE
to purchase.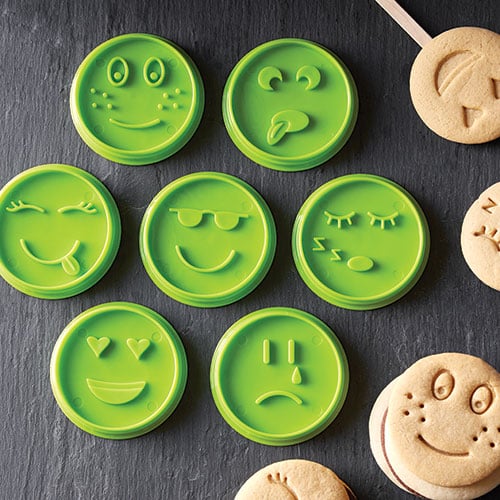 Many of you might be excited to see Miss Peregrine's Home for Peculiar Children that's opening this weekend, but I'm more intrigued about Deep Water Horizon. This flick is based on the true events that happened on the Gulf of Mexico oil rig explosion on April 20, 2010. It stars Mark Wahlberg, who I could watch on the big screen all day long. Also in the movie is Kate Hudson and Kurt Russell. Rotten Tomatoes is giving this film a pretty good review and I sure hope we can squeeze it in this weekend.


With the arrival of fall, I have a desire to add a few casual dresses to my closet. This one from Old Navy is calling my name! How cute is this?!? It's adorable with the flat as shown in the picture, but I'm also seeing it with leggings and boots. Perfect to kick around in over the weekend when we go out for a relaxing dinner. I'm pretty confident I'll be hitting the purchase button and own one of these by Monday morning. It comes in gray (Carbon) and maroon (Marion Berry). Want one too? Click
HERE
to purchase.
4. Two by Two
The newest Nicholas Sparks book,
Two by Two
, is scheduled to release on October 4
(that's Tuesday folks), so if you want to pre-order now if the time. Here's how Amazon describes it: At 32, Russell Green has it all: a stunning wife, a lovable six year-old daughter, a successful career as an advertising executive and an expansive home in Charlotte. He is living the dream, and his marriage to the bewitching Vivian is the center of that. But underneath the shiny surface of this perfect existence, fault lines are beginning to appear...and no one is more surprised than Russ when he finds every aspect of the life he took for granted turned upside down. In a matter of months, Russ finds himself without a job or wife, caring for his young daughter while struggling to adapt to a new and baffling reality. Throwing himself into the wilderness of single parenting, Russ embarks on a journey at once terrifying and rewarding-one that will test his abilities and his emotional resources beyond anything he ever imagined. I see another Nicholas Sparks movie deal, don't you?!?
Have a wonderful weekend. I'm going to try very hard to make sure to get a weekending post up on Monday. I did an fun thing for dinner on Wednesday night that I want to share with you. See ya later!