Happy Thursday! Glad you popped in to this week's Thinking Out Loud. Vanessa from
X-tremely V
and I would love for you to link up below and tell us what you're Thinking Out Loud about today.
Today I'm thinking about some random things that just flat out make me happy. If you know me, you know it doesn't take much for me to get excited. Which I'm okay with. Let's face it, sometimes it's a rough old world out there. We all need to take advantage of any little thing that makes us smile. Here are a few of those things for me ~
It's summer and one of my favorite summer foods is corn on the cob. What isn't my favorite is
eating
the corn
off
the cob. I always cut it off and eat the nice little pile of corn on my plate. This Pampered Chef
kernel cutter
makes cutting the corn so darn easy -- I just LOVE it! They are only $9.50 and worth every penny. Want one? Click
HERE
to order.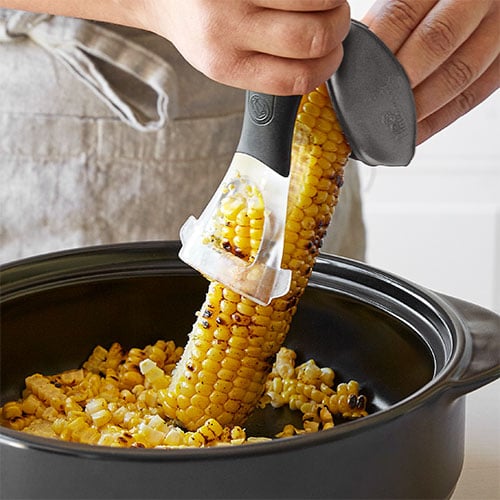 Another thing that makes me happy is a good sale. I love finding bargains and getting good deals. You can imagine my delight when I realized my favorite mascara was on sale at Beauty Brands! I use the Tarte Lights, Camera, Lashes 4-in-1 mascara and love it. But there are 22 mascara types on sale so you should check it out and see if your favorite is on sale also.
Another thing that puts a smile on my face is when my quarterly
Ebates
big fat check lands at my house. One arrived earlier this month. Are you an
Ebates
fan? This is seriously getting money for doing nothing but shopping online for products you buy. Do you have an
Ebates
account? Sign up
HERE
if you're interested. Here's how it works ~ after you sign up for an account, go to Ebates.com and search for the company you are going to do some shopping at, click through to that website and shop away. Your discount amount will show up on your Ebates account and once a quarter they will mail you a check. It's just that simple. Yep, getting that check always makes me smile.
So that's some things that put a smile on my face. What makes you smile? Would love to hear from you! Link up below and share one of your favorite posts or just leave a comment about something that makes you smile.
Enjoy more Thoughts for Thursday at:
Party at My Place
This post contained affiliate links. I may receive a small commission if you click on the link and purchase. Thanks!