Friday is here and I'm so ready for the weekend! This has been a fast week and just thinking about being able to sleep in a bit on Saturday puts a smile on my face! I've got five fun things to share with you today. Take a look ~
1. Bath and Body Works Fizzies
Did you know that Bath and Body is now selling bath fizzies?!? And their names are so fun ~ Hello Beautiful, Endless Weekend, A Thousand Wishes, Love and Sunshine. Turn your bath into a luxurious oasis of fun, color and scent by plopping one in the water. Would a collection of these not make a super fun Mother's Day gift! If you use the code JUSTPEACHY, you can get 25% off your entire order. Get 'em before they are gone!
2. Into the Water
Did you love
The Girl on the Train
? The author, Paula Hawkins, has her next book coming out May 2 and it is currently available to pre-order. Could be a great summer read! Here's how Amazon sums up the book, "A single mother turns up dead at the bottom of the river that runs through town. Earlier in the summer, a vulnerable teenage girl met the same fate. They are not the first women lost to these dark waters, but their deaths disturb the river and its history, dredging up secrets long submerged.
Left behind is a lonely fifteen-year-old girl. Parentless and friendless, she now finds herself in the care of her mother's sister, a fearful stranger who has been dragged back to the place she deliberately ran from—a place to which she vowed she'd never return.
With the same propulsive writing and acute understanding of human instincts that captivated millions of readers around the world in her explosive debut thriller, The Girl on the Train, Paula Hawkins delivers an urgent, twisting, deeply satisfying read that hinges on the deceptiveness of emotion and memory, as well as the devastating ways that the past can reach a long arm into the present.
Beware a calm surface—you never know what lies beneath."
I'm adding this psychological suspense novel to my summer reading list! Click
HERE
to purchase.
Katy Perry, along with Migos, is dropping a new song today titled Bon Appetit. KatyCats were all excited on Monday when she tweeted out her World's Best Cherry Pie recipe. Some people are speculating that hidden in the recipe are song lyrics to the new tune. How clever is that! Here's the tweeted recipe. Sounds pretty delicious to me!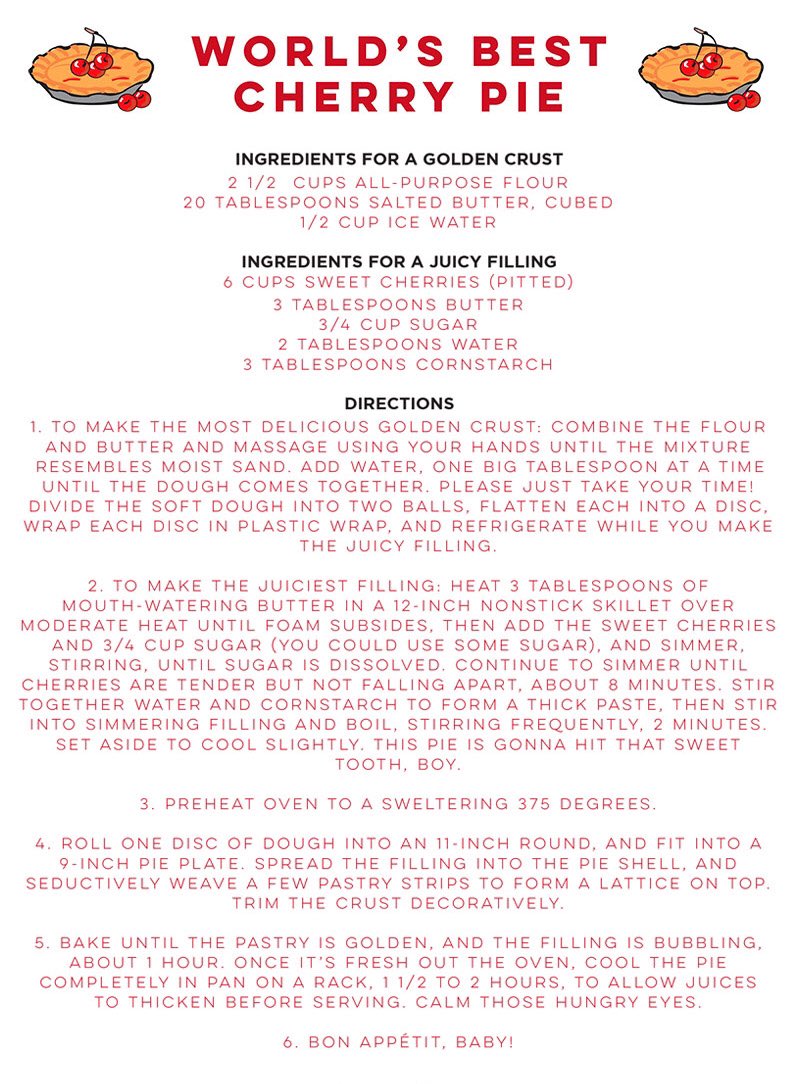 I've seen the previews for this movie and I truly think Tom Hanks has done it again. Here's the storyline from
Movie Insider
, "When Mae (Emma Watson) is hired to work for the world's largest and most powerful tech & social media company, she sees it as an opportunity of a lifetime. As she rises through the ranks, she is encouraged by the company's founder, Eamon Bailey (Tom Hanks), to engage in a groundbreaking experiment that pushes the boundaries of privacy, ethics and ultimately her personal freedom. Her participation in the experiment, and every decision she makes begin to affect the lives and future of her friends, family and that of humanity."
Have a wonderful weekend! We will be glued to the TV tonight watching the St. Louis Blues try to get their first victory in the second round of the playoffs. LGB!! There's a ton of rain in the forecast so it sounds like we are going to be spending most of the weekend inside. That's fine by me because I'm helping with a wedding next weekend and I have plenty of things to keep me busy! See you soon!