Hallelujah it's Friday! Bring on the weekend! After today, I'm looking at three days off work and I'm ready for it to begin. Enjoy my five for today ~
1. National Brother's Day
I'm surprised Hallmark hasn't gotten a hold of today's national holiday. It's National Brother's Day! I have a little brother that's the best. There's 12 years between us and the day he was born was one of my best days ever. He's my go to guy for fixing anything around my house and has blessed me with four nephews and a niece. Love you baby brother!
2. Honest Tea
For most of this week, I was at a work conference. One afternoon I grabbed an herbal Honest Tea in the flavor of Pomegranate Blue from the snack table and was in love from the first sip! The flavor is a perfect blend of pomegranate, grape and blueberry with a twist of hibiscus. It's caffeine-free and only 100 calories per bottle. Also, it's available on
Amazon
so I'm thinking of just ordering a case instead of searching the stores to purchase some! Click
HERE
is you want some delivered to your doorstep. It also comes in a heap of other flavors I would be interested in trying: Orange Mango, Cranberry Lemon, Heavenly Lemon Tulsi, Black Forest Berry, Ginger Oasis and Golden Tumeric Pineapple.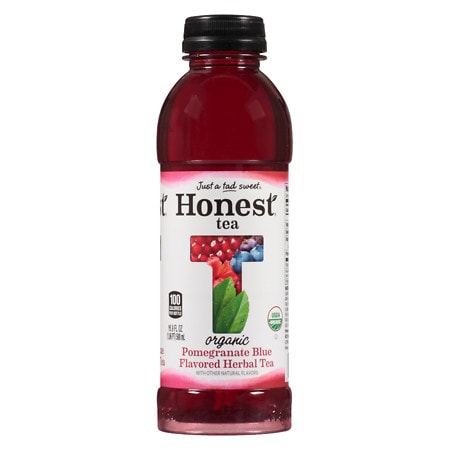 Stumbled across this beauty recently and it is definitely blogworthy. To use, gently rub the tube over your lips in small, circular motions. Wipe with a cotton pad and then apply your favorite lip balm. It's infused with vitamin E, shea butter, avocago, grape and jojoba oils which will nourish and protect your sweet lips. I've only used it a couple of times and can already tell the difference in my lips. It's leaving them much smoother than before the use. You want to know the best part - it's only $2.99!! Click
HERE
to grab a few for yourself.
If you're looking for a family friendly movie to take the whole gang to over the long weekend, it's Disney to the rescue! Aladdin is opening today and is starring Will Smith as the genie. Rotten Tomatoes sums it up like this:
A street rat frees a genie from a lamp, granting all of his wishes and transforming himself into a charming prince in order to marry a beautiful princess. But soon, an evil sorcerer becomes hell-bent on securing the lamp for his own sinister purposes.
5. Shopping Tip
Enjoy your Memorial Day! It's great to have a day set aside to remember and honor people who have given the ultimate sacrifice serving in the Armed Forces defending the United States. We're headed to Memphis for part of the weekend to celebrate our niece graduating from the eighth grade. It will be fun to see some of our family. Hope you have a wonderful few days and look forward to seeing you back her next week.
This post contained affiliate links. I may receive a small commission if you click on the link and purchase. Thanks