Hello! Welcome to Five on Friday. Like so many others, this week has flown by. Wednesday was a special dinner out, celebrated my mother-in-law's birthday on Thursday and planned Eric's birthday celebration for Saturday night. Love fun, busy weeks! Since the rest of the month is super packed with activities, I'm hoping to use this weekend to do some planning for Thanksgiving. But before we step into the weekend, here's this week's Five on Friday.
1. Billy Joel -- The Definitive Biography
Hey Billy Joel fans -- Fred Schruers' new biography on the piano man has hit the stands. This book came together after hours of interviews with Billy himself. The book weaves song lyrics into Billy's stories of life and love. This could make an excellent Christmas gift for any of the Billy Joel lovers on your list.
2. Vintage State Pins
I had the opportunity Wednesday night to meet up with some of the Missouri Women Bloggers for dinner and it was so much fun! I'll be talking more about this group later, but wanted to give a shout out to Brittany Sherman. She blogs over at
Va Voom Vintage
, She also has an Etsy shop called
Wacky Tuna Vintage
that sells the most adorable things! Below is a pin she was wearing on Wednesday and, I must say, it was absolutely ADORABLE!! Definitely making some purchases from this site!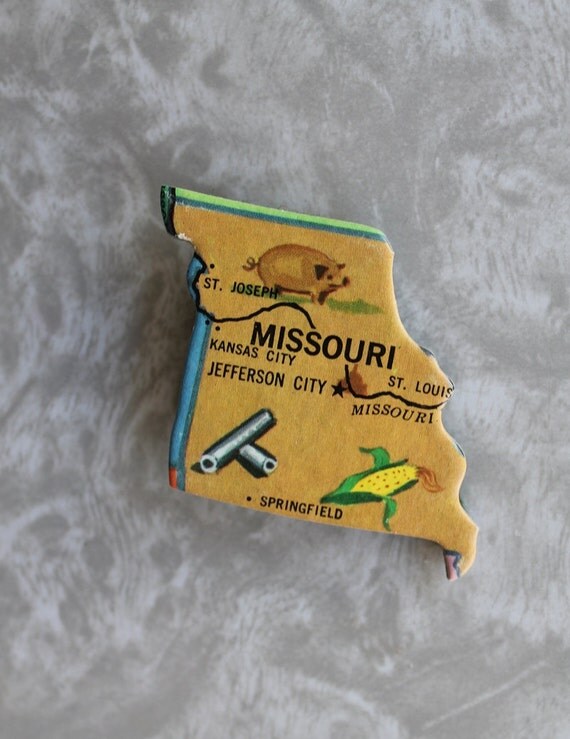 3. National Harvey Wallbanger Day
In case you haven't heard - Saturday, November 8 is National Harvey Wallbanger Day! This concoction can be made by mixing 3 parts vodka, 1 part Galliano and 6 parts orange juice. Pour into a highball glass and garnish with an orange slice and maraschino cherry. November 8th is also National Cappuccino Day, but the way I look at it is you can have a cappuccino any old day but not many days are set aside for Harvey Wallbangers. Cheers!!
4. Thanksgiving Turkey
Thanksgiving is coming and I've been giving some thought to my turkey. I was browsing through my Real Simple magazine and it gave the below recipe for brining your bird. Since I love a nice, juicy piece of turkey, I'm going to be giving this recipe a try. Thought you might like to see it also.
2 gallons cold water

2 cups Diamond Crystal kosher salt

1 cup white sugar

1 12- to 18-pound turkey
Important: You will need a food-safe container large enough to hold the turkey and brine while it is marinating. Make sure the container fits inside your refrigerator.

Directions
In a large pot, mix together the water, salt, and sugar until dissolved. Place the turkey in the container and cover with the brining liquid. If necessary, use a heavy plate to keep the turkey submerged. Brine the turkey for 18 to 24 hours.

Remove the turkey from the liquid and place on a large platter. Discard the brining liquid. Pat the turkey dry with paper towels. If you plan to roast the bird within 2 hours, you can leave it uncovered on the counter. If you aren't going to roast it for 2 hours or more, return the turkey uncovered to the refrigerator until you are ready to cook it.
5. Quote
Here's one we should all try to remember.
Have a great weekend and stop back by on Monday for my weekending edition.