I'm on the road this morning finishing our drive to New Orleans for my friend Lauren's wedding. Don't you just LOVE weddings!! And as an added bonus, it's Mother's Day weekend. Really looking forward to seeing Lauren as a bride and eating Mother's Day dinner at Emeril's NOLA restaurant on Sunday.
Before I lose my internet and head south the rest of the way to The Big Easy, here's my Five on Friday.
1. Personalized Handwriting Bracelet
How cool is this
Personalized Handwriting Bracelet
?!? To have one made, you just send a scan of your loved one's signature to Caitlyn.Minimalist's etsy shop and she can craft one for you. I think this is such a special piece to have. I'm going to look for an old letter or card from my grandma and have one made. As an added bonus, you can use the coupon code of
MINIMALISTLOVE for 10% off. Does it get any better?!?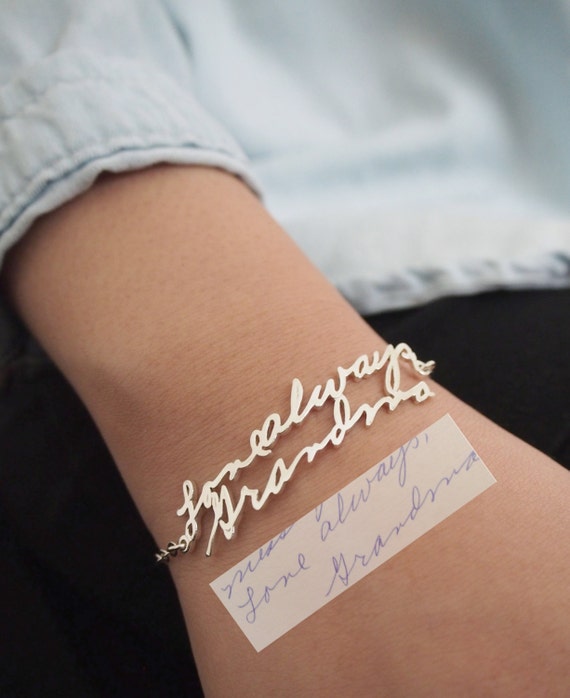 2. Fish Fish Squish!
School's going to be out soon so it's time to stock up on things for the kids to do. This game sounds like a blast! Here's the product description:
The squish or be squished family game. Will you be the last player with the unsquished fish? Start the game with your own school of dough-fish. Flip cards in turn until you complete a three-in-a-row. When you do, you are awarded a "free squish" of any opponent's fish. Stay on your fins! Everyone is trying to squish your fish too! Last "fish" standing wins!
Doesn't that sound like all kinds of fun!! You can purchase yours by clicking
HERE
. The cost is only $13.99. I'm also thinking it would make an excellent gift for a birthday party.
3. Sunscreen Bands
Speaking of kids getting out of school and summer approaching, bring on the fun in the sun! One of the things that used to drive me a
little
lot crazy when Ian was small was keeping track of when I applied his sunscreen and how long he'd been in the sun. These
little gems
help you keep track. They monitor UV exposure for all-day protection and alerts you to reapply sunblock. It works on dry or wet skin, salt and pool water. Sounds like a must have for summer to me!
4. Ice Cream Treat
Do you have a Dairy Queen around you? If you do, it's worth making a trip there for the Salted Caramel Truffle Blizzard. We treated ourselves on the way to Memphis with one of these and it was DELISH!! Good thing they didn't have these back in the day when I worked at Dairy Queen in high school -- I would have eaten all their profits!
In honor of Mother's Day on Sunday, here's a little momma humor for you.
You still have a little time to get entered the Summer Must Haves for Mom giveaway that I'm participating in - check it out
HERE
. There's some fabulous things to win!
Hope everyone has a fantastic weekend. Remember to show a little love to your moms on Sunday!! I'll be back on Monday to share all the fun from the wedding and the weekend.
Linking up with: