Happy Friday guys! Today is a very special day around our house ~ it's Eric's birthday! Happy birthday to my dear, sweet husband! We have a fun few days planned to celebrate, but more on that in another post. For now, let's take a look at my five for today.
1. Ash Wood Cheese Serving Set
Pampered Chef recently came out with their winter items and the ash wood cheese serving set is one of my favorite new items. This would make an excellent board to have cheese (and other appetizers) on at our Thanksgiving day feast. I'm also thinking it could make an excellent Christmas present for that hostess-with-the-mostest on your list. Visit my
Pampered Chef website
to order. I would truly appreciate your business!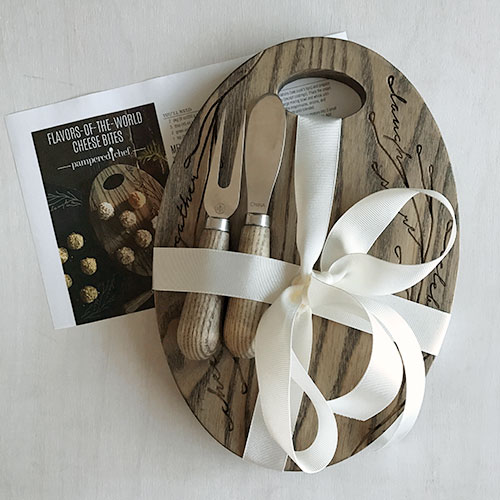 2. The Crown on Netflix
The day has finally arrived -- The Crown is available on Netflix!! "This drama follows the political rivalries and romance of Queen Elizabeth II's reign and the events that shaped the second half of the 20th century". Rumor has it we get a view of Queen Elizabeth's lavish wedding just 12 minutes into the opening episode. Be still my heart!! Sounds like a show I'll love and I can't wait to start watching. Could be my next binge watch. Is it on your watch list?
3. Bialetti 7265 Trends Collection 5 Quart Pasta Pot
Oprah's favorites things Christmas list is out and this snazzy pot made the list. Check it out -- it has an oval shape so your noodles will fit in the pot without breakage. The lid twists and locks in place for easy straining. The handles don't heat up so it's easy to lift. What more could you want in a pasta pot?!? And the price is only $29.99! Holy cow ~ this thing is amazing! Want one? Click
HERE
to check it out. Act fast because I doubt these babies are going to last long.
4. Change Your Clocks
So it's that time of year when we fall back. November 5th is the day to wind back the hands on our clocks. Ready for an extra hour this weekend? What are you going to do with your extra hour?
5. Ever have one of these....
Have a fabulous weekend! I'm taking off next week and Eric and I are going on a little road trip. Should be a fun few days and hopefully the fall foliage will still be beautiful. I'll be back on Monday with all the weekend happenings!